It's weird to have a spectrum disorder be the glue that binds us together with strangers.
So much of the time we rely on hobbies, or sports teams, or favorite Netflix Originals to bridge the gap between small talk and budding friendships.
But we almost never think about the possibility that pain, or hardship, or common trials are steroids for interpersonal relationships.
Or at least I haven't spent much time thinking that way.
But I started thinking about it more after an event at Patrick's school a few weeks ago. The wonderful school staff and some generous local donors put together a beautiful meal and awards ceremony for the parents of children in the autism unit.
And as I looked around the room, and spoke with some of the other parents, it was hard not to notice how different we all were.
According to the latest Census data from 2010 the racial makeup of Spanish Fork was 90.9% White, 0.4% African American, 0.5% Native American, 0.6% Asian, 0.7% Pacific Islander, 4.4% some other race, and 2.5% from two or more races. Hispanic or Latino of any race were 10.6% of the population.
In other words, Spanish Fork has a lot of white people.
But that night, in that elementary school auditorium, our group was pushing hard against the statistics.
There was representation from every single race and income class. On any given weekday it's unlikely that we'd ever cross paths. But that night there was an understanding and an unspoken bond that was genuinely palpable. I could feel it against my skin. My very white and pasty skin.
And as cheesy and cliché as it sounds, there was a sense of family too. We had room to breathe because we didn't have to put on our "impress the boss" faces.
We could just BE.
And we didn't have to pretend that showing up at the school in the first place wasn't a massive undertaking and disruption to routine.
We all knew that simply showing up was work.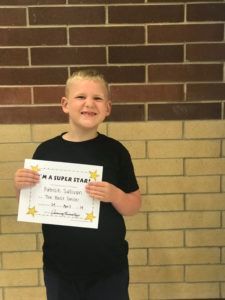 He easily earned the award
And for 45 minutes, on the night that my son won the award for "Best Smile", we could look around the room at our actual peers. The people we could truly connect with regardless of ethnicity, job status, or first spoken language.
And we didn't have to start with Game of Thrones or the latest album from Bieber.
We could start by talking about how selfish we feel when, in a weak moment, we resent the fact that our future adult children will probably live under the same roof as us forever.
And we could start with complaining about insurance company hoop jumping.
And we could start with that special moment when our adolescent child said "I Love You" for the first time.
And for one night, cutting through the bullshit was incredibly refreshing.
And as strange as it can be to get so real so fast with a stranger, I'll take that that No Holds Barred Friendshipping every day of the week over the alternative.
Have you ever had a common life struggle be rocket fuel for a friendship? Was it with someone you would have found yourself with otherwise? I'd love to hear ALL about it in the comments.
---
Date
May 15, 2019
---
---