I'd like to welcome all of you to my new blog! It's something I've wanted to do for quite a while, but didn't want it to end up as a graveyard for my words. Like most of the people who are going to read this, I need another project like Apple needs another U2 album, so I've waited quite a while before pulling the trigger on this.
When I considered the time commitment it would take to publish my thoughts here regularly, I realized that by eliminating teeth brushing and bathing I'd be able to write posts here a few times each week. The result is that I get to share with you often, but you may not want to shake my hand at a WordCamp. We all make sacrifices ;)
Anyway, I'm excited to be publishing on this new notepad and am excited to hear from you as well. If there are any particular things you'd like to hear me talk about, I'm definitely open to ideas and you can send them to me here.
LoopConf
For those of you who don't already know, I'm one of the organizers of a new WordPress developer conference that we lovingly named LoopConf.
I've been to a number of WordCamps and as much as I love them (I really really do), I've heard a number of presenters say the same types of things.
I wish I had a better idea of who was in the audience.
I hope the everyday users in my session don't have a conniption when I start talking about my deployment workflow
I've thought for a long time that putting together a conference designed 100% for developers would be incredible, but I also knew that zero days of event planning experience on my resume would probably create a few roadblocks. I'd likely be making a whole bunch of promises that I just wouldn't be able to keep, which is how most people end up in jail, or married.
I've also thought there was more room in the WordPress space for more premier conferences like Pressnomics. I went to Pressnomics 2 and it was such a fantastic time. Josh and Sally put on an amazing event around the business of WordPress, and if you have any aspirations for running a WordPress business, I highly recommend that you attend.
I've been to a number of conferences in my former life in the corporate world as well, and feel like I have a good feel for what makes up a great event. That said, having no experience actually organizing an event anywhere near this scale, I wouldn't even know where to start.
Ng-Conf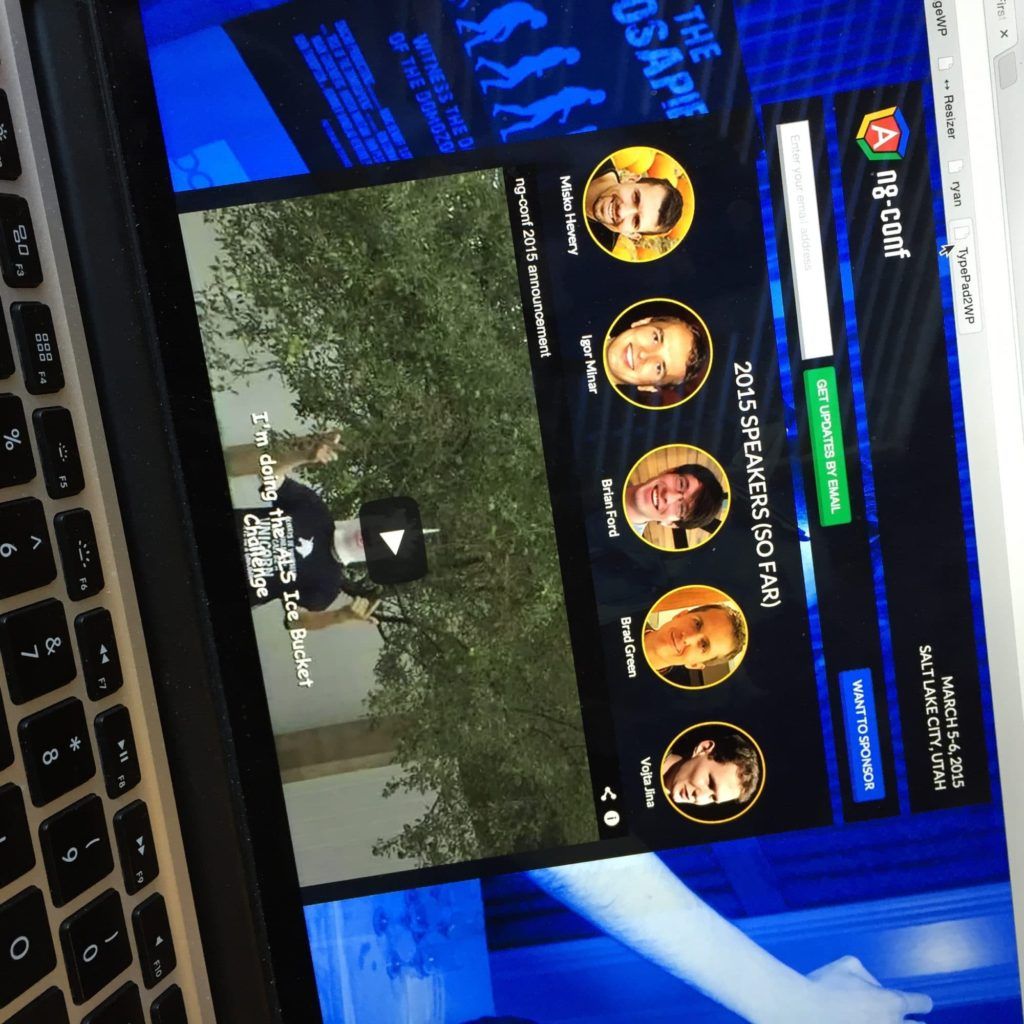 Photo Oct 19, 2 46 15 PM
When I was thirteen I lived in the same neighborhood as Joel and Aaron Frost. We did all sorts of things together like Boy Scouting and Camping. We remained friends through high school and even though we went in different connections after high school, we've stayed connected and I've always considered them great friends.
As time went on, Aaron became a pretty awesome front end developer and works at a great software company here in Utah. Through Javascript, he was able to connect with Joe Eames, a fellow Javascript geek. Together, along with the help of a professional Event Planner, Sunny, they organized the first ever ng-conf, a conference dedicated solely to developers for Angular.
The conference was a huge success. They sold tickets in two separate rounds. The first round of 300 or so tickets sold out in about 15 minutes, and the second round of tickets sold out so fast they thought their ticketing system was broken. In literally one browser refresh the tickets were gone.
Besides rapid ticket sales, the event itself was raved about by everyone who attended. They did things like a hack night with Sphero robots, had live entertainment at their parties, a video gaming lounge, had amazing giveaways, all while learning from the best developers in their industry. Not to mention a free global live stream of the event and posting all of the sessions online for free.
Right Place at the Right Time
All this to say that their experience organizing great conferences, and my involvement in the WordPress community every day, made for a great opportunity to actually pull off something that I had envisioned for a long time. They reached out to me and asked if I was interested and it was a complete no-brainer for me.
The speakers who have committed already have been amazing and I can't express enough how grateful for their early confidence in the event. We take that seriously and have no intentions of making this conference anything less than stellar.
If you have any questions or suggestions about LoopConf, or are curious about how it's come together up to this point, don't hesitate to hit me up in the comments. We have a string of really exciting announcements locked and loaded and I can't wait to tell you more.
Also, thanks for stopping by. I'm excited to hang out with you more, buy you a chilled beverage, and learn from what you have to share too.
---
Date
October 19, 2014
---